ABOUT MARUE PHARMACY
Located right in front of Komagome JR Yamanote station (east exit), Tokyo, Marue Pharmacy has been conducting business specializing in oriental herbal medicine since 1957.
Although there are many who may think that oriental herbal pharmacy may be very expensive, mostly used by only elderly people or aimed at dealing only in large quantities, we are very compatible with customers from all walks of life.
We provide consultations for anemia, irregular physiology, thyroid abnormalities, dizziness, insomnia, anxiety, tinnitus, infertility, menopause, hypertension, blood pressures, diabetes, piles, atopic dermatitis, allergies, hypersensitive colitis, prolonged diarrhea, gastritis, nephritis, cystitis, hepatitis, low back pains, nerve pains, dizziness, various infectious diseases, cancers, pneumonia, and recently, for people with after effects from Corona. Therefore, it is quite common for many customers to come to this store for common colds, sudden abdominal pains, hangovers or headaches. We deal with customers according to their day-to-day physical conditions.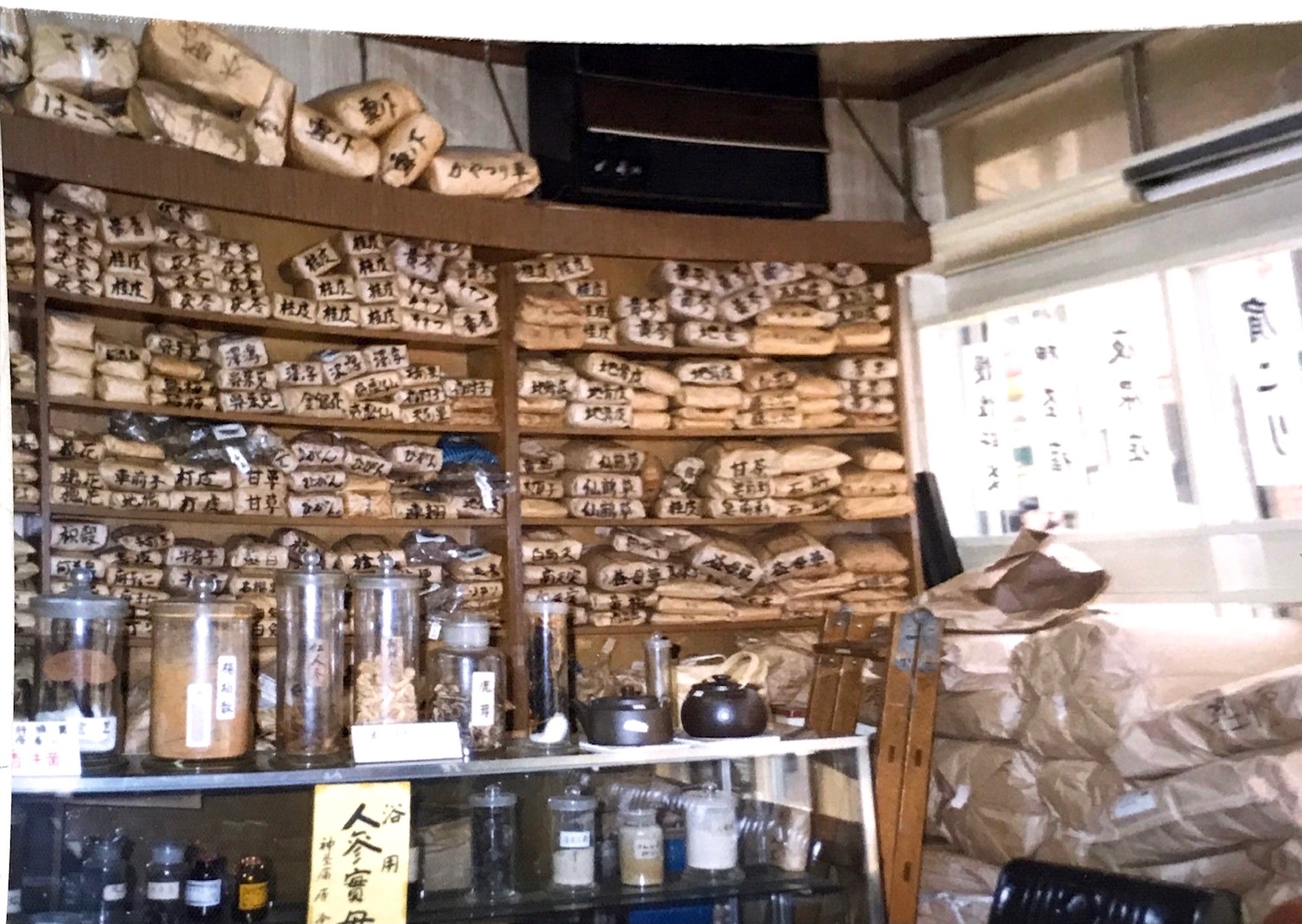 【Photo:Inside the store around 1980】
We can also handle bilingual consultations in native-level English, Hindi, Urdu and Nepali as we deal with many overseas customers.
We are conveniently located, just 30 seconds from the station-exit. We welcome you to visit our pharmacy for any types of health conditions.
ABOUT THE OWNER
(Pharmacist, Member of Japan Society for Oriental Medicines & Member of Tokyo Herbal Medical Association)
This pharmacy bears a legacy of 3 generations starting from my grandfather.
Initially, we dealt in many products, ranging from oriental medicines to ordinary OTC and cosmetics until 1968 and then onwards, we started specializing only in oriental herbal medicines. I started my career as a pharmacist soon after the sudden demise of my father in 1988 and by the grace & support from all of my family and well-wishers, I have been fortunate to continue this business until now. Over the years of serving innumerous customers, I have also gradually gained ample experiences by mainly focusing on ancient Japanese oriental prescriptions.
Personally, I have never taken any medicines other than oriental herbal medicines. All the pets like dogs & cats that I have grown up with, have also adapted very well with oriental herbs.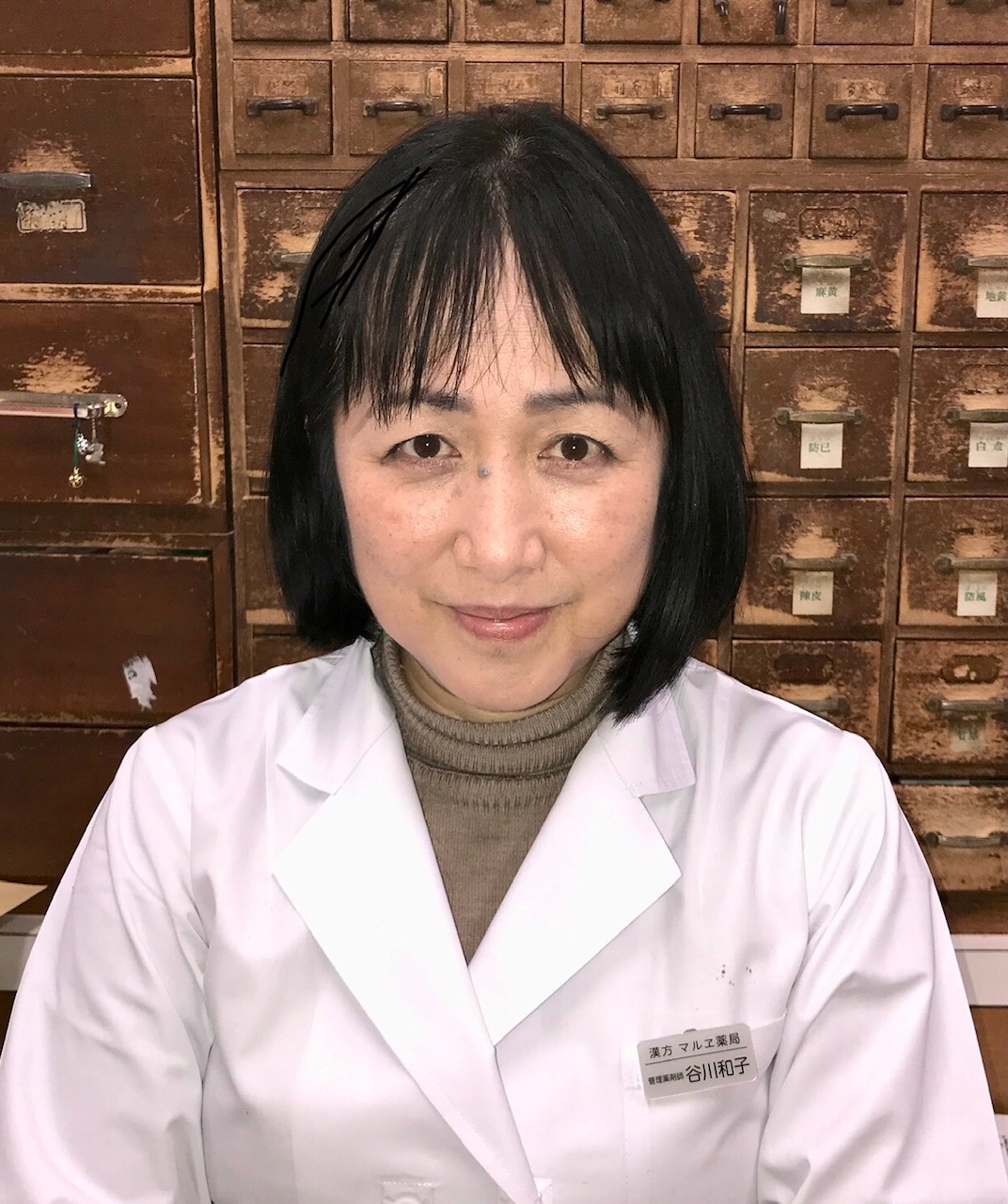 KAZUKO TANIKAWA:
LOCATION
ADDRESS
2-1-2 Nakazato, Kita-ku, Tokyo 114-0015
JR Komagome station (East Exit)
Only 30 seconds from the east exit!
Tel: 03-3917-6839 Fax: 03-3917-6858
BUSINESS HOURS
1000hrs to 1900hrs (Monday to Friday)
1000hrs to 1800hrs (Saturday)
CLOSED
Sundays and national holidays